The purpose and mission of CarouselHistory.com -
Education, Appreciation…
First off and most importantly – The mission of CarouselHistory.com is to perpetuate education about, and enthusiasm for, historic antique carousels. Our first priority and focus is on the 100 or so grand "Golden Age" American carousels, hand-carved by some extremely gifted artists, between the mid-1880s through to the Great Depression, when the production of these "Grand" hand-carved carousel works of art stopped entirely.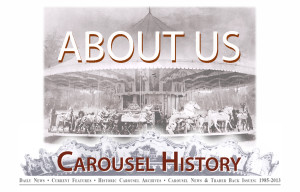 Given the foremost mission, the backbone of CarouselHistory.com will be the publishing of all 28 years of back issues of The Carousel News & Trader, from September 1985 through to my last issue as editor, December/November 2013, 28+ years – 328 issues. The information in the back issues of the CNT might otherwise be lost.
– Chronicles of the huge auctions; carousels lost and carousels saved.
– Historic research articles with new discoveries into the carvers and makers of these grand works of moving art, as well as discovered history on particular machines from our past, now lost.
– The associations and conventions, restorers, authors, researchers and artists… All of the articles on, and by, the people who were part of the resurrection of the fine art of the historic "Golden Age" carousels.
– Galleries galore… We will also be sorting through the photo archives of the magazine's past, to be shared and published for all. And of course taking contributions of photos from anyone who would like to share.
Along with the Carousel & Automatic Music News, and the NCA's MerryGoRoundup and a small handful of well written books, that and the 28 years of CN&T is about all the information there is on historic antique carousels. No library, or encyclopedia, or other publication or journal will have any information that is not taken in some form, partially or entirely, from the information already printed in the few resources mentioned above.
We are fortunate that we still have a handful of these amazingly carved, spinning Historic Carousel Museums – moving and operating Folk Art Antiques that we call historic carousels, still out there operating for all to enjoy and ride. And those taken care of will literally last forever. We also have a small handful of these precious gems, intact, restored or ready for restoration, relegated to storage units around the country. There are just a handful of these precious "Golden Age" carousels still in parts and boxes that we would like get out of storage and up and operating. For this, of course, we need to find them new homes. In order to do this, keeping education and enthusiasm going for these treasures is a must.
It is our hope and plan for this website to bring more knowledge to more people, and thus we aim to raise appreciation of our historic "Golden Age" carousels to a new level. Beyond the obvious reach that a website has, there will be an opportunity for feedback on stories past and present, and hopefully a new, lively and effective community of carousels lovers will form around it.
Perception, Placement…
Perception decides so many things in this world, and perception will decide the fate of our last few historic carousels seeking homes. Initially, folks think a million or two is too much for a ride – and they are right… but a historic antique carousel is so much more than a ride. It is a Folk Art, Americana Family Museum, if done properly, it is also a first-class banquet and function location, it is a U.S. Historic Landmark – a new spot on the map, and an instant tourism destination… and before it even opens… a center of community pride, in whatever community the carousel should find itself in next. A grand historic carousel's true home is its next home, though it will never forget its last. Just walk around Brooklyn and ask random folks on the street if they have a carousel – I'll bet most, if not all, say, "Of course we have a carousel. It's under our bridge."
Other things CarouselHistory.com can and will do.
FUNDRAISING - Select historic carousels in the midst of vital fundraising efforts will be given the opportunity to reach out right on our home page. Maybe this will help get a couple of those precious last few antique merry-go-rounds out of storage and back under the public's seat – spinning art and history, making new smiles and happy memories, as they were designed to do, in a world with too few of each.
DAILY CAROUSEL NEWS/NEW FEATURE - We will try to corral any daily news stories concerning historic carousels, carousels in general, and other related news that might be of interest. We will also be printing new feature stories on carousel history, past and present.
PHOTOGRAPHS/GALLERIES - Along with the numerous archival galleries, I will be posting photographs of machines I have visited with a little information on them. If you have a set of photos on a machine we don't have up yet, and you would like to share it – we'd love that. If you have some photos of a long lost carousel you like share – we'd love that even more!
BACK ISSUES/ONLINE ISSUES – This will be a long process to get 300+ issues properly scanned, converted and added to the site so you can flip them at your leisure. There are quite a few issues already up for perusing – the rest will be scanned and added a couple a week until they are all up. The home page should tell you the latest issues added as flip books.
UP-TO-DATE INFORMATION/CORRECTIONS -
What good is all of this information if there are errors in it? Especially when errors spread to create more errors all over the internet until the error overtakes the truth, like one often misquoted article that appeared in one of the most prestigious Antique Journals almost a decade ago now, riddled with inaccurate historic carousel information… figures selling for $250,000 at auction, etc. And still, the article is constantly quoted elsewhere.
Certainly there were errors in CNT articles through the years. I can't go back and change the magazine (I actually can in many cases if needed), but I can and will POST important articles on their own with the appropriate corrections made where necessary, and/or do what is necessary to be sure the information presented is always as correct as it can be..
Just building this site has turned out to be quite an undertaking, without trying to find every story correction printed over 27 years. We would certainly hope you will not be shy to send in your comments if you know there is a story with an error and we'll be sure it is corrected. As well, all other comments and suggestions are welcome on specific stories, stories you would like to see, the overall website, etc. Any and all feedback is welcome.
The site is, of course, free. Once again, the purpose of its content is to give away information in order to educate – believing knowledge is power – and that through education and knowledge the artistry of the "Golden Age" of American carousels will shine, and the interest, appreciation, enthusiasm, and thus the preservation of antique carousels and antique carousel art will be celebrated and perpetuated as it should be.
Message from the Web Editor,
– Roland "Rock" Hopkins

Dan Horenberger – Site Founder
Owner, Founder, Operator, Brass Ring Carousel Company

Past Publisher, The Carousel News & Trader magazine – 2006-2013
We lost Dan, way too soon, in November, 2016.
See a full tribute to Dan here: Carousel History Tribute to Dan Horenberger.
---
Rock "Roland" Hopkins - Web Designer & Editor
antiquecarousels@gmail.com
Marketing and operations assistant, Brass Ring Carousel Co.
Operator, AntiqueCarousels.com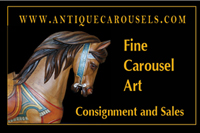 Past Editor, The Carousel News & Trader magazine – 2006-2013